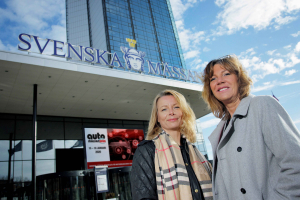 Bookings for Automässan, the leading event for Sweden's automotive industry, are at record levels just under a year before the next edition, which takes place on 15-18 January 2020. The Swedish Exhibition & Congress Centre has reinforced the team with the appointment of Anna Lena Friberg as the Automotive Fair's new business manager.
The Swedish Automobile Dealers Association, SBF, and FVU, the association representing suppliers of workshop equipment, are delighted with the level of interest. So far, 20 per cent more space has been booked than at the corresponding time before the last fair. Gilbert Fransson from FVU and Christer Liljenberg from SBF, welcome Anna Lena Friberg as the new business manager.
– Anna Lena is one of the Swedish Exhibition & Congress Centre's most experienced employees and has recently managed Scanpack, which enjoyed a record success last autumn. She has great know-how in trade show organisation and extensive experience of industrial fairs. For the time being she will be working alongside Anna Jarnö, current business manager for the Automotive Fair, which we value, say Christer Liljenberg and Gilbert Fransson in a joint statement by SBF and FVU.
– We are a strong team behind the fair at a time when the industry has a great need to meet, do business and build its future competitiveness through investments in both hardware and software, says Anna Lena Friberg.
She also tells us that the automotive workshop organisations, the Swedish Motor Federation (MRF) and the Swedish Vehicle Workshop Association (SFVF), have already started work on the Automotive Fair's seminar program.
– Skills development and inspiration are becoming a very important part of the Automotive Fair's content.
We have strengthened the Automotive Fair's team because of the growth of the Swedish Exhibition & Congress Centre's trade fairs.
– 2020 will be an intensive year for us with a whole host of important trade fairs. The Automotive Fair is getting a boost with Anna Lena Friberg in charge, while Anna Jarnö will be able to focus on the implementation of Maintenance 2020, a fair that is also experiencing a record level of participation, says Peter Scott, director of industrial fairs at the Swedish Exhibition & Congress Centre.
He adds that the automotive sector, together with sustainable mobility and the future transport system are three specifically important development areas for the Swedish Exhibition & Congress Centre.
– Gothenburg and West Sweden are at the heart of the Nordic automotive industry as well as being an important hub for innovation-driven high-tech sectors, says Peter Scott.
For more information contact:
Anna Lena Friberg
Business Manager Automässan (the Automotive Fair)
Tel. +46 31 708 80 68
E-mail: anna-Lena.Friberg@svenskamassan.seA
Anna Jarnö
Business Manager Underhållsmässan (the Maintenance Fair)
Tel. +46 31 708 80 85
E-mail: anna.jarno@svenskamassan.se
The Auto Trade Fair 2023 is arranged by FVU (The Association of Garage Equipment Suppliers) and SBF (Association of Swedish Car Parts Wholesalers ) in collaboration with MRF (The Swedish National Association for Motor Trades & Repairs), MAF (The Swedish Motor Trade Employers' Association), DRF (Däckspecialisternas Riksförbund) and SFVF (Sveriges Fordonsverkstäders Förening).