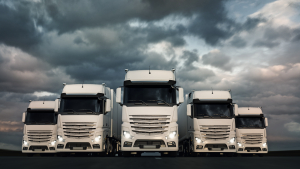 The Swedish market for heavy vehicles, 16 tonnes and upwards, remains strong. Everything suggests that the new registration statistics for 2019 add up to nearly 6000 trucks.
It is a market that for many decades has been an oligopoly between Scania and Volvo, but which is opening up with, above all, an ever-larger Mercedes-Benz presence; but  MAN and DAF are also beginning to gain a foothold in certain market segments. About 90,000 heavy vehicles are in service.
But there are question marks that need to be addressed and that are crucial for market development – the economic cycle, international competition, the number of major construction and infrastructure projects and – not least – which fuel and therefore which transmission system should apply in future?
It is becoming increasingly difficult to be a truck driver, dealer or workshop because of the uncertainty. Which vehicle and fuel should the driver choose? How should the truck dealer calculate resale values? And what technology and skills should the workshop invest in?
Many issues revolve around reducing emissions and fossil fuel dependency across the entire transport sector. Nowadays, work is also being done around environmental zones in several rural cities.
Therefore, the question is: how does the trucking industry, as part of the logistics chain, deal with this stricter legislation and political demands for a more efficient transport system?
High-performance, low cost diesel engines, powered by alternative fuels; several different solutions using gas, hybrid, electricity and batteries; more autonomous driving, such as truck platooning: all of this is coming at the same time, which is a problem for both the haulage and motor industries.
This is something that representatives of the trade association Sveriges Åkeriföretagen have often pointed out while also highlighting demands for a more efficient transport system. The sector is also driving the demand for equal competition in the European trucking and haulage sector. (Due to a previously poor application of cabotage rules, many hauliers from low-cost countries have taken up significant parts of the market for long-distance transport.)
The aftermarket for heavy vehicles is complicated. Today, fewer and fewer new heavy vehicles are sold without finance and some form of service agreement. There is a strongly stated demand for fast and efficient service in a competitive market; uptime and cost per mile are important parameters. But competition and price pressure are also driving hauliers and fleet owners to develop their own service solutions, either through independent workshops and parts suppliers, or by once again investing in their own workshops with completely independent parts suppliers.
All in all, the Swedish truck market is in a period of transition, driven by customers, legal requirements, competition and technology shift. Something that brings new market entrants and opens up new opportunities, not least in the service market.
An expansive view of heavy vehicles: an important part of Automässan
The countdown to Automässan on 15-18 January has begun.  But what do exhibitors expect from the Swedish auto fair? We took the pulse on three aspects that are also aimed at the heavy vehicle segment, the part of the motor industry that is in an intensive development phase.
Christian Kvist is a key account manager at Spiken Equipment & Service, which supplies workshop equipment in both the light and heavy segments.
"I am looking forward to exciting meetings with existing and new customers.  We will show our breadth.  We are a total supplier to all workshops servicing both private vehicles and trucks," says Christian.
Johanna Lundberg, CEO, for the lighting company HBA Vehicle Technology.
"It's great for the whole industry to meet, share experiences, do business and socialize. I expect to see exciting presentations and professional exhibition stands. On our own stand we will have a light lab in place where visitors can test the illumination of our products and we will launch an adaptive extra light ramp, which is the first of its kind on the market," Johanna says.
Claus Colbin, Sales Manager, Lidköpings Carpart AB says the company will present news at the fair.
"It is always fun to be at Automässan, to see what is going on and meet old and new customers.  We will show solutions for tomorrow's workshop, including the premiere of contactless wheel setting from German company Beissbarth.  Then we will also show calibration solutions for OEMs and give free workshops on meeting increased industry requirements for traceability and quality," he explains.
You haven't forgotten to sign up for Automässan 2020, have you?
Get your free admission ticket here »
The Auto Trade Fair 2020 is arranged by FVU (The Association of Garage Equipment Suppliers) and SBF (Association of Swedish Car Parts Wholesalers ) in collaboration with MRF (The Swedish National Association for Motor Trades & Repairs), MAF (The Swedish Motor Trade Employers' Association) and SFVF (Sveriges Fordonsverkstäders Förening).