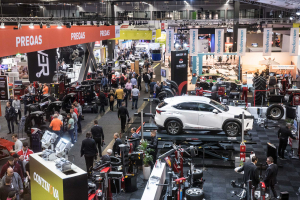 More than 17,000 visits over four days, 280 exhibitors from 17 countries on 14,300 square metres of floor space; visitors from 59 different countries.
Automässan has confirmed its position as Northern Europe's largest and strongest meeting place for the automotive industry's service and aftermarket.
– What a trade show, sums up Christer Liljenberg, chairman of the Swedish Automobile Dealers' Association, SBF. Together with the FVU, the association representing suppliers of vehicle workshop equipment, SBF is the principal backer of Automässan.
The Swedish service and aftermarket drives annual revenues of approximately SEK 60 billion, divided between labour, car parts, accessories, tyres and rims, as well as vehicle workshop equipment and services. Automässan, which is organised every three years by the Swedish Exhibition and Congress  Centre in Gothenburg, is the natural meeting place for the sector to come together and do business, meet customers, networking and develop skills. The event is uniquely positioned.
The auto parts wholesaler ABR/Huzells is delighted with its participation in Automässan 2020.
– For us, taking part is less about sales and more about maintaining contacts with customers and suppliers, says Olle Boréus of ABR/Huzells.
He tells us that they were at the last Automässan, whereas they only attended as visitors with customers at the fair in 2014.
– But this year we have two stands – one with ABR/Huzells and one with our lighting company, Awimex. We also invested in a "dinner with fish" on Thursday night for 150 customers at the Universéum!
The tyre distributor NDI was there to present its Toyo tyres and its own tyre chain, Superdäck, which comprises 106 workshops in Sweden and 400 throughout Scandinavia.
– An enjoyable and useful trade show where we have met customers and colleagues in the industry. It lasts for several long days, but they are fun, says Jonas Lundh at NDI.
He reports how they spent the days on the stand.
– We have found some future customers and we have also had good meetings with potential new members of our own chain, Superdäck, he says.
For the vehicle workshop equipment supplier Preqas, the fair forms part of its long-term branding activity. The company has existed since 1933 and was formerly called BIMA, while at the last edition of Automässan the name was Opus.
– It has been brilliant; we have run out of both beer and sausages. We had a great VIP night, says Ove Johansson from Preqas.
– Automässan means a lot to us because here we can flex our muscles. We have the whole package in place because JB Bilteknik is also involved, adds colleague Dennis Andersson, who emphasises how important it is to meet in person, and the role this plays in a long-term customer relationship.
– It is extremely important that we get out and meet new and old customers. Those of us on site have been busy all the time, Dennis reports.
Benode is a development company in the automotive industry providing services for workshops. With its services you can both save time and increase sales from supplementary work.
– The fair has been good. We have met more customers and prospective customers than expected, says Benode's Mikael Bjurek.
– It is important for us to meet existing customers, but we have also created many new contacts that we will reconnect with. It is interesting to see all the visitors and exhibitors from beyond Sweden's borders.
All in all, we see huge business benefit for the companies and organisations that participate in Automässan. Already there is talk of "next time we meet".
– We are now looking forward to the 2023 edition of Automässan and the likely mega trends that will have evolved within the automotive industry, such as electrification and connected and autonomous vehicles, as well as new business models for car ownership and use, predicts Anna-Lena Friberg, Business Manager for Automässan at the Swedish Exhibition and Congress Centre.
The next Automässan takes place at the Swedish Exhibition & Congress Centre in Gothenburg on 18-21 January 2023.
For more information contact:
Anna Lena Friberg, Business Manager Automässan
​annalena.friberg@svenskamassan.se
​Tel. 031-708 80 68
Automässan home page: https://automassan.se/
The Auto Trade Fair 2020 is arranged by FVU (The Association of Garage Equipment Suppliers) and SBF (Association of Swedish Car Parts Wholesalers ) in collaboration with MRF (The Swedish National Association for Motor Trades & Repairs), MAF (The Swedish Motor Trade Employers' Association) and SFVF (Sveriges Fordonsverkstäders Förening).